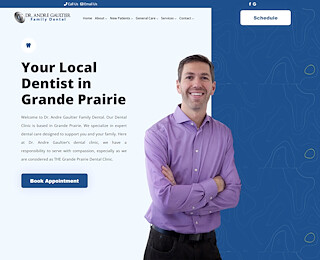 Dr. Gaultier Family Dentistry is currently accepting new patients, and as a family dentistry clinic, we accept patients of all ages. Give us a call today to get treated by a leading dentist in Grande Prairie. Here, we provide a large suite of dental services, including emergency dental care - something that few dental clinics offer!
At Dr. Gualtier Family Dentistry, our staff takes the stress out of going to the dentist, providing great dental care, low prices, and a family-friendly, welcoming environment. If you need a dentist in Grande Prairie, we invite you to give us a try. You won't be disappointed!
Comfortable Dentist's Office in Grande Prairie
From the receptionist to the dentist's chair, we want all of our patients to feel welcome and comfortable with us. We go out of our way to exceed our patients' expectations, and that is why Dr. Gaultier Family Dentistry is a favorite of many of our Grande Prairie neighbors. They know that we care about their oral health and hygiene.
How Important is the Dentist?
Regardless of your age, routine dental checkups are critical to the health and wellbeing of your teeth and gums. We recommend checkups every six months. Dentist visits at this frequency will allow us to monitor your oral health and detect problems before they become severe. The early detection of dental/oral conditions and cancers greatly increases our chances of fending them off and saving your teeth.
What Happens at the Dentist's Office in Grande Prairie?
During the standard dental checkup, we'll provide an oral examination, cleaning, and oral prophylaxis. We search for cavities, gingivitis, and other oral conditions. We may use also X-rays to get an accurate assessment of your oral health. During a checkup, we can also clean your teeth and scrape the tartar off, revealing your naturally white teeth again, reducing the bleeding in your gums, and giving you more confidence in your smile.
When to Bring a Child to the Dentist
If you have children, we encourage you to bring them in regularly for checkups. Instilling the importance of oral hygiene and dentist visits in children ensures that they will develop good oral hygiene practices that they will carry into adulthood. At Dr. Gaultier Family Dentistry, we go above and beyond to ensure that all children feel welcome and safe in our family clinic. We even have children's books and toys in our waiting area, and all of our staff is extremely kind and child-friendly.
We Educate Our Patients
In addition to providing a great atmosphere for dental care, Dr. Gaultier Family Dentistry also educates our patients of all ages. This way, they understand what we're doing to them, they understand why we're doing what we're doing, and they also know how to best care for their oral health and hygiene at home. With dental treatment, education truly is key!

If you would like to speak with a receptionist about how our dental clinic works, or if you would like to schedule your first appointment, give us a call. Dr. Gaultier Family Dentistry welcomes you in advance.
Dentist Grande Prairie
Related Post
Dental emergencies can happen at any time in any number of ways. Dr. Gaultier Family Dentistry is where you can find an emergency dentist in Grande Prairie on the fly. Our dental clinic is set up to transfer after-hour calls to the dentist on call. On most days, we have someone available 24/7 to answer the phone, as most dental emergencies don't occur during normal business hours.
We encourage you to choose a dentist, whether that's Dr. Gaultier Family Dentistry or another, that offers emergency dentistry. It is a huge benefit to have, as most dentists do not offer this service, even though all probably should.
What to Know About Dental Emergencies
Remember, with any dental emergency; it's a race against the clock to get treatment. Therefore, the sooner you call our dental office, the better we can fix your problem. If, for some reason, you're not able to reach a dentist after hours, please visit the emergency room ASAP. We'll return your call as quickly as possible in the event we should miss your call. However, you need to get treatment immediately if you are having a dental emergency.
Emergency Dentist in Grande Prairie for the Public
Of course, our emergency dentist is available to all in Grande Prairie. However, it's always best when the person who has a dental emergency is already patient. This way, we know the patient's history and oral condition when the emergency occurs. We know which allergies they have, their medical preferences, etc. This allows us to perform safer and better treatments in the case of an emergency.
When you need an emergency dentist, you need an emergency dentist! We're not going to turn you down just because you're not a patient with us. However, if you are reading this prior to having a dental emergency, please bookmark this website in your favorite browser and save our number. This way; when a dental emergency happens, you already know where to go!
How Do I Know if I'm Having a Dental Emergency?
At Dr. Gaultier Family Dentistry, we treat all kinds of dental emergencies, including but not limited to the following:
Tooth knocked out/Dislodged tooth
Broken teeth
Cracked teeth
Broken jaw
Object stuck between teeth
Chronic tooth pain
Does your dentist provide these kinds of emergency dental treatment? If not, you might want to find a new dentist. Dr. Gaultier Family Dentist is accepting new patients. Give us a call to schedule a consultation.
What to Do if I'm Having a Dental Emergency?
Remember, during a dental emergency, the best thing you can do is stay calm. This is especially true when dealing with child patients. Parents can become anxious and make the situation worse, especially if they know their child is in pain and they don't know how to help them. In the case of a lost tooth, recover the tooth, rinse it, and place it in a cup of milk until you get to the dentist's office or ER. Seek help immediately.
DR. ANDRE GAULTIER FAMILY DENTISTRY
(780) 532-5380
10309 – 98 Street Grande Prairie, AB T8V 2E7
View Larger Map
We welcome your comments!