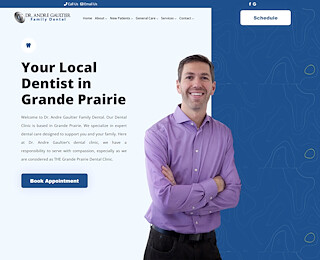 Dr. Gaultier Family Dentistry is a Grande Prairie family dental clinic, promoting oral health and hygiene in the community we serve. As our name indicates, Dr. Gaultier Family Dentistry offers professional dental services to every member of the family, including children and adolescents, and of course, adults. We are currently accepting new patients, and we accept insurance.
The Importance of Visiting the Dental Clinic
Starting with routine trips to the dentist early on, we can help young ones cultivate good oral hygiene practices that will last a lifetime. Here, we take on patients as young as two and three-years-old. You're never too young to start going to the dentist. As long as you have teeth, we can take care of them!
For adults, going to the dentist at least once or twice a year is a great way to keep those pearly whites shining brightly as you age, and it's a great way to stay informed about the condition of your teeth. The older we get, the frailer our teeth become, the more discolored our teeth become, and the more susceptible to oral health issues we become.
Indeed, routine dental cleanings and checkups can aid in the early detection of dental problems. With dental problems, time is of the essence, so detecting diseases and oral conditions early will greatly enhance the probability of treating and overcoming your condition. Being aware and proactive is positively the best way to prolong the life of your natural smile.

What to Expect at Our Grande Prairie Dental Clinic
Dr. Gaultier Family Dentistry is a Grande Prairie dental clinic that believes in patient education and forming relationships. We build relationships with our patients so that going to the dentist isn't a dreadful experience. This can be especially useful for children patients. Going to the dentist is a lot easier when you like and trust your dentist. There are other practical reasons as to why we build relationships with our clients as well - it helps us to provide a higher degree of care.
Let's say you have a dental emergency and you're already a patient at Dr. Gaultier Family Dentistry already knows your oral health. We also know if you're allergic to any medications, your medical preferences, and we know about any conditions that you may have already had. That's an additional benefit to our regular patients - Dr. Gaultier Family Dentistry as an emergency dental clinic, something few dental clinics in Grande Prairie can claim.
Contact Us
There are many tangible benefits in making regular trips to the dentist's office. You'll be able to take care of any bad breath issues you may have, avoid the loss of teeth, and even sleep better. Having your teeth cleaned and whitened will give you a sense of self-esteem that you haven't had in years. You'll quickly begin to develop exceptional oral health and hygiene habits/awareness.
The mouth is the gateway to the body. A healthy mouth usually means a healthy body. Take care of your mouth! Contact Dr. Gaultier Family Dentistry today to schedule your first appointment.
Grande Prairie Dental Clinic
Related Post
Did you know that teeth whitening is the most popular dental procedure in Grande Prairie? Why so? Perhaps because teeth whitening is a simple dental procedure, and it's a very cost-effective way to brighten your natural smile. As we age, it is natural or our teeth to appear yellowish in color or stained. Teeth discoloration can also be brought on by smoking, coffee and tea drinking, and other natural foods and beverages we imbibe.
Regardless of the cause, tooth discoloration is very unattractive, and teeth whitening can make you look years young in an instant, giving your self-esteem and confidence to smile again. Feel free to call Dr. Andre Gaultier Family Dentistry to schedule an appointment for a teeth whitening consultation today.
What's the Best Method for Teeth Whitening?
If you have discolored teeth and you would like to get your natural pearly white smile back again, then you can be happy that you have options. There are ways you can improve the whiteness and coloration of your teeth at home, and there is in-office teeth whitening by a dentist, which is what we offer and recommend at Dr. Andre Gaultier Family Dentistry.

There are different in-office teeth whitening procedures that we can use, including cleaning and scraping the plaque off of your teeth. The cost of tooth whitening varies based on the procedures that you choose. To be safe, you can expect to spend up to $500 for teeth whitening in Grande Prairie.

In addition to professional dental teeth cleaning, which can work miracles in and of itself, in terms of teeth whitening, Dr. Gaultier Family Dentistry can also use strong bleaching agents to whiten your teeth. While there are many store-bought teeth whitening solutions, none of them come close to the efficacy of our in-office teeth bleaching products.
Why Pay for Professional Teeth Whitening?
Not only is the power of the teeth whitening products you use important, but it's also important that a professional perform your teeth whitening procedures to protect your gums and enamel. Bleaching materials can be effective in whitening teeth, but they can also damage the other parts of your mouth. Sometimes, people experience mild to severe reactions to teeth whitening agents, such as hypersensitivity and allergic reactions. When you choose in-office teeth whitening at Dr. Gaultier Family Dentistry, we are well qualified to handle any issues that might come up during the teeth whitening process.
How Long Does Teeth Whitening Take at the Dentist's Office?
Be sure to set aside at least an hour (usually 1-2 hours) to accomplish your teeth whitening procedure in just a single visit. Depending on how well you care or your teeth following the whitening treatment, the benefits can last for a year or more, making this annual treatment that's both affordable and essential.
Our dentists and technicians are very good at what we do, and we'll get you in and out of the dentist's chair in no time! Depending on which teeth whitening solutions you vye for, we can probably get you in and out in less than an hour. Dr. Gualtier Family Dentistry is the best choice for teeth whitening in Grande Prairie.
For the best cosmetic dentist in Grande Prairie, visit Dr. Gaultier Family Dentistry. What makes our dental clinic the best choice for cosmetic dentistry in Grande Prairie? Put simply; we provide our patients with the best combination of high-quality dental services and affordable prices. Plus, we offer emergency dental services, and as a family dental clinic, we accept patients of all ages.
A Cosmetic Dentist Can Make Your Teeth Healthier and More Attractive
As we age, many of us succumb to the effects of gravity and nature. Our teeth grow crooked and thin, and they are prone to discoloration, chipping, cracking, breaking, and falling out. Not only is this bad for our oral health and our overall health, but it doesn't help our self-esteem either! Being ashamed of your smile is no way to go through your day-to-day life. A cosmetic dentist at Dr. Gaultier Family Dentistry can give you your smile back.
When you choose Dr. Gaultier Family Dentistry for a cosmetic dentist in Grande Prairie, there is a lot we can do for you. For one; we can restore any lost functionality in your teeth. Whether it's by enhancing your natural teeth, such as with orthodontics, or providing you with a cosmetic solution, such as bridges, veneers, or dental implants; we'll customize a solution for you.
Why Visit a Cosmetic Dentist?
We're not going to cite the numerous studies that have shown how improving the health and appearance of your teeth can make you feel happier and more confident or how it can improve your love life and career opportunities. Instead, we want you to know what we can do for you.
If you have missing teeth or severely damaged teeth, we can replace them at Dr. Gaultier Family Dentistry. We can eliminate gaps in teeth and restore your smile with natural-looking restorations. We have a variety of products that can be used to enhance your smile, complimenting each budget. Sometimes, just cleaning a person's teeth who hasn't had their teeth professionally cleaned in years can improve the appearance of the teeth by night and day. We'll scrape your teeth to the gum line, removing any plaque buildup, and we can apply bleaching agents safely to whiten the teeth while protecting the rest of the mouth.
Contact Dr. Gaultier Family Dentistry
We can also reshape your teeth and straighten your crooked or misaligned teeth. This may involve the use of orthodontics, but it might also include other techniques. If your teeth are straight but misshapen, then we have ways to make them look nice again. The one thing that we pride ourselves in is offering options to our clients.
If you would like to see a cosmetic dentist in Grande Prairie, Dr. Gaultier Family Dentistry is now accepting new patients. We invite you to call us and schedule your first appointment. We'll provide a consultation and examination, letting you know what condition your teeth and mouth are in.
DR. ANDRE GAULTIER FAMILY DENTISTRY
(780) 532-5380
10309 – 98 Street Grande Prairie, AB T8V 2E7
View Larger Map
We welcome your comments!